Posted on 6. March, 2010 by
admin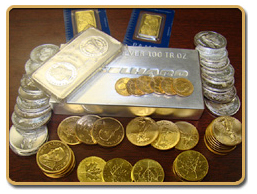 Of all of the significant problems that the nation faces at this particular time, nothing is of more concern to Americans than the economy.
It is important that we understand something of how we got to this point. Where does one begin to describe the problems that we currently face? Let's just suffice to say that this is a problem that has been around for a significant time and pick up the story with the Kennedy-Johnson administration. Until that time, the country was on a precious metal standard. Contrary to common belief, we were not on the gold standard at that time, but on the silver standard. Throughout American History, there were times of being on gold, silver and bimetallism (both gold and silver at the same time).
The point of being on this standard was that it created an incredibly stable currency. The value of the currency was tied to the gold and silver supply. Therefore, the country could not print more money than it had in gold or silver supply. The value of gold was a fixed rate throughout the entire time that I went to school from kindergarten through college. Throughout that time, gold was fixed at $35.00 per ounce. During the Kennedy-Johnson administration we abandoned the silver standard allowing for unlimited printing of money, which was finally accomplished under the Nixon administration. At this point, America began its decent into a dangerous abyss. The Federal Reserve could now print money whenever it was deemed necessary. Of course, this is the path to hyperinflation and unprecedented deficits. Hyperinflation takes place when the amount of money printed far exceeds the goods produced and there is a general loss of faith in the currency. The consequences are devastating. The inflation rate can vary from 100% over a few years to higher than 50% per month. Argentina, a gold rich nation, at one time experienced one trillion percent inflation, a seemingly unfathomable amount. Another devastating effect of hyperinflation is that the currency loses its value. Supply is too high, so the value of the money drops by devastating percentages. The result for most countries that have faced hyperinflation is the loss of most personal wealth and the eventual return to hard currency (no more paper money).
Of course, today the problem of hyperinflation is significantly more probable because we no longer really rely on paper money. Nonetheless, the United States has already turned to the printing presses (a most dangerous turn of events), as well as significant loans from China and other countries, in order to maintain the appearance of wealth and a sustainable economy. But the new development is the fact that most money transactions currently occur without the use of any currency exchange at all. They are simply electronic transfers, meaning that a computer transfers data to another computer. No paper currency, gold, silver or anything that has ever been used as a medium of exchange is ever used. It is simply electronic data. This kind of currency is more common than most people realize. We first started to use other currencies when it became convenient to use checks. They became money for us in that we simply took a piece of paper provided by the bank, filled in the appropriate amount to represent money which we presumably had in the bank.
In the past twenty years, we have found even more convenient methods such as the credit card and the debit card. To reiterate, this is not currency, gold or anything of value. It is simply a plastic card that is read by a computer which electronically transfers the money that we presumably have in the bank. Since banks and financial institutions control these exchanges, it becomes possible for them to manipulate the money supply to their advantage, much like the stock market can be manipulated by the big players. So in areas like the stock market, commodities markets and banking and financial institutions, we see massive amounts of wealth being created out of thin air. It is all wealth that does not really exist except on a spreadsheet somewhere, but that wealth can be spent just as easily as if it were gold or silver. The consequence of this is that now not even the government has control over the amount of money or wealth that exists in the economy. Therefore, the chances of hyperinflation and a total collapse of the economic structure increases significantly.
Is this something to fear? Yes, absolutely. In fact, it frightens me just to point out these things to you. So, what is the point here? The point is simply that the government has not done a very good job of managing our financial situation in the past 40 years and more. What they have done is a good job of fooling the American people into thinking that they have done a good job. We currently have a recognized unemployment rate of 11 to 12%. However, there are many that are not included in those figures, such as people who have given up looking for work, people who are self-employed who do not file for unemployment and a host of others. The percentage probably comes much closer to 20 or 25% by many estimates. These figures are staggering. Even if it is a legitimate 11 or 12%, it is still staggering. This is the first time in my life that I actually know large numbers of people who are out of work or suffering from under-work (not enough work to pay the bills). The reality is that these figures are very close to the unemployment figures of the Great Depression.
But the government has figured out how to make everything continue to look relatively normal instead of looking like the Depression of the 20s and 30s. However, this façade cannot last much longer as the economy strains more and more to hold on to a hope of recovery. We already see the government grasping at every straw to hold on. For example, they are trying their best to take control of every pension fund they can and convert those pensioners to the rolls of Social Security. They are also putting liens on houses that are owned by the elderly who are in nursing homes so that the home cannot transfer to the children upon their death. These are only two examples of the numerous things they are doing which directly affect the lives of the people of America.
Even the Constitutional separation of powers has been threatened by this dilemma. When they passed the TARP Bill, the Congress of the United States abdicated much of their authority to the President of the United States. Now the President has assumed much of the power that rightfully belonged to Congress, resulting in the authority to nationalize industries and banking institutions, etc. Of course, all of this is unconstitutional, but that does not seem to matter to them.
So, what do we do? We must send people to Congress who are willing to make the tough decisions, those who recognize that the budget must be a balanced one. We must send people who recognize that Americans must have jobs – not poor jobs – good jobs that provide solid middle class incomes and secure futures for us and our children. We must send people that are not headed to Congress just to grab all of the wealth they can for themselves and to self-perpetuate their wealth schemes at the expense of American success. It will take a while to recover from this crisis, but it can be done and it will be done when we stand together and tell the government to stop gambling away our future for their selfish desires.
As a footnote, let me explain that I am not suggesting that we immediately adopt a gold or silver standard. To do so, would have the devastating effect of making money almost completely unavailable and everything would come to a grinding halt. The economy would simply stop. This would be a very bad thing. But we must insist on a balanced budget. These problems, which have taken so long to create, will not go away immediately in a quick fix, but they can go away.
John Wayne Tucker
http://www.johnwaynetucker.com